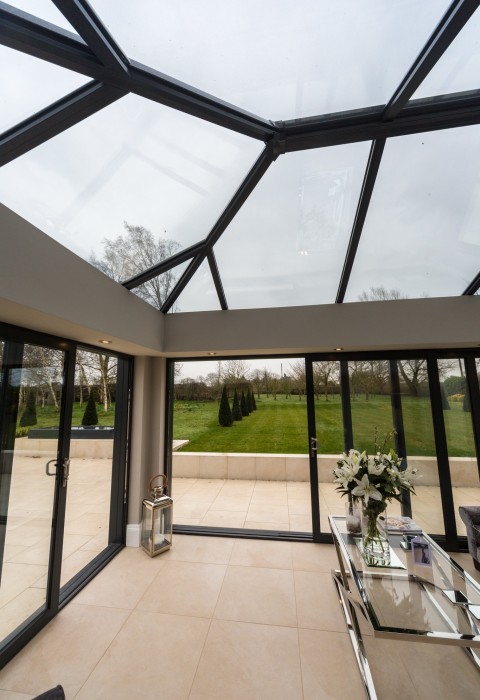 Ultrasky Roof Sherborne
At Bill Butters Windows, we offer energy efficient and light aluminium Ultrasky Roof in Sherborne, Dorchester, Yeovil, Shaftesbury, Gillingham, Crewkerne and nearby Dorset areas. Bring maximum light to your beautiful conservatory or extension with our Ultrasky roof, designed to create brighter living spaces.
Extending to the eaves beam, the aluminium Ultrasky Roof allows abundant natural light to filter in your Sherborne home. Lighter than a traditional orangery or flat roof extension, this roof has no massive radius ends and fewer bars. Your conservatory or extension can stay warm and cosy all year round with the help of a variety of external aluminium cornices, which give the roofline shape and style and conceal the gutters.
If you want a replacement roof system that blends contemporary design with natural light to create a gorgeous warm, glazed addition, choose our Ultrasky roof for your Sherborne property. Aluminium sliding or bifold doors are a natural fit for an Ultrasky roof. Our team of experienced installers will handle the structural calculations necessary to design and build a unique frame for your orangery or extension.
Our conservatory roof is compatible with large expanses of glass or doors, resulting in unobstructed views and a beautiful design. Utilising our structural goalpost system, a span width of 6 metres is possible. The goalpost is concealed within the Ultrasky roof, resulting in minimal visibility. This orangery roof design features a low glass to frame ratio, maximising light entry into the area below it to create uninterrupted views and an outdoor connected room. Our Ultrasky roof's frame is incredibly sturdy and works with structural goalpost technology to reduce door pressure and expand design options.
Start your dream conservatory project using our online quoting engine and get a free bespoke quote!
Key Features
Excellent weather protection - The triple layer storm shield fitted into the radius ends of your orangery will prevent water entry – even with the harshest weather conditions.
Wide span and structural strength - The Ultrasky roof's ridge is stronger than any other UK system and has an IXX value of 2,226kmm4 to deliver incredible spanning performance for your orangery.
Precision engineered - With access to geographical data from a NASA database, we can use our in house software to anticipate snow and wind loadings based on your postcode.
Wide range of materials - Whatever your budget might be for your Sherborne property, we can help. Choose between a uPVC or aluminium roof, both of which will provide stunning visuals and performance.
Start Your Quote
Ultrasky Roof Prices in Sherborne
Choose one of our incredibly cutting edge Ultrasky roofs to revamp your home's appearance completely. Feel free to drop by our Sherborne showroom, call us at 01935 816168, or get in touch with us through our online form. Our friendly team members are here to respond to any questions or concerns you may have.
You also have the option of using our no obligation online quoting engine, which will provide you with a quote that is uniquely crafted to meet your individual needs. We are looking forward to working on your Sherborne home improvement project.