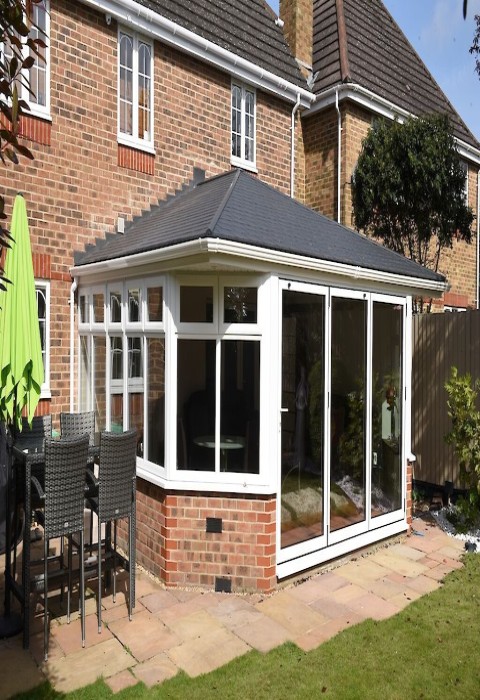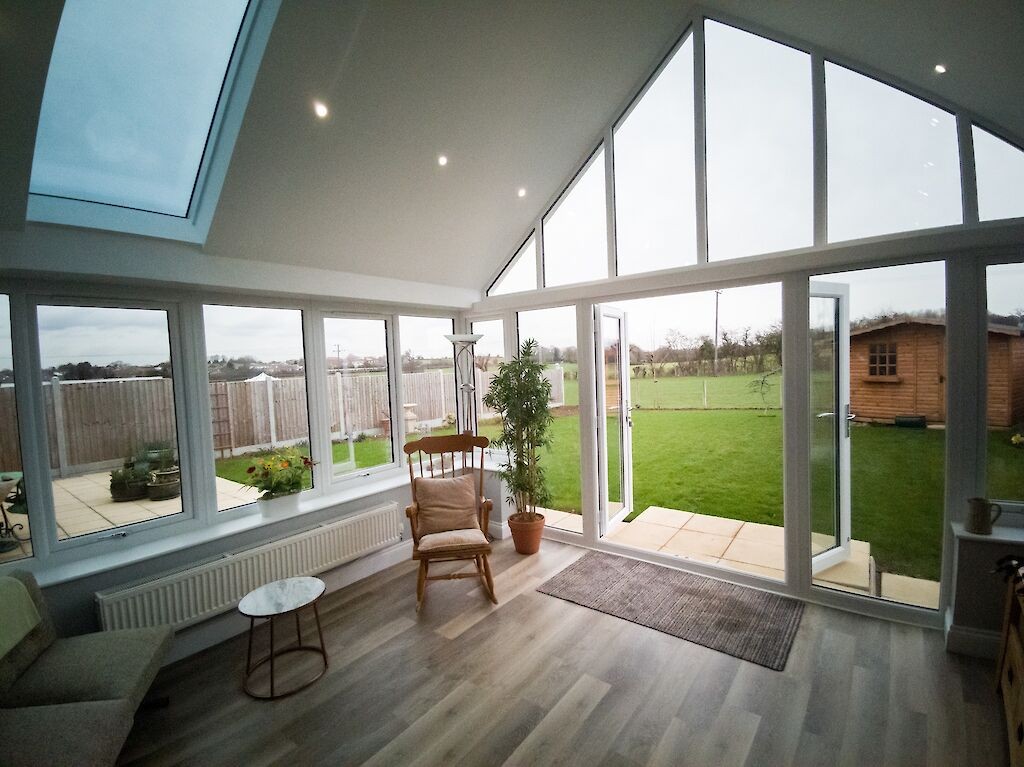 LIGHTWEIGHT, TILED & ENERGY EFFICIENT ULTRAROOF SHERBORNE
Transform your conservatory with a beautiful and thermally efficient ultraroof. At Bill Butters, we supply and install lightweight tiled conservatory roofs manufactured by industry leader Ultraframe in Sherborne, Dorchester, Yeovil, Shaftesbury, Gillingham, Crewkerne and surrounding Dorset areas. Begin your bespoke online quote today!
At Bill Butters, we are proud to work with market leading manufacturers like Ultraframe to bring high quality tiled conservatory roofs to our customers. With over 30 years of experience, Bill Butters is one of Dorset's most trusted suppliers and installers of personalised home improvement solutions.
If you are looking for a tiled conservatory roof that looks elegant and provides incredible thermal insulation, Ultraroof is the ideal solution for you. This lightweight system uses expandable panels to fill any gaps in the roof and prevent cold spots, allowing your Sherborne home to remain warm and comfortable all year round. With a naturally warm and comfortable conservatory, the dependency on heating devices will reduce, allowing homeowners to save money on electricity bills.
Create stunning vaulted ceilings that never need a tie bar. Whether you are looking for a replacement roof or building a new conservatory, our tiled conservatory roofs will reward you with a bright, warm, and cosy interior space. Additionally, these replacement roofs are easy to maintain and are weatherproof, ensuring homeowners never have to worry about leakages, moulds or rot.
No matter the style and size of your project, we can design a replacement roof system which meets and exceeds your expectations. For a competitive price estimate, use our handy online quoting engine and receive a personalised quote immediately.
Key Features
The lightest tiled conservatory roof available on the market with only 38 kg/m2 in weight, creating beautiful kerb appeal for your home.
Ultraroof can accommodate full length glazing panels fitted into the tiled roofing system. These panels look stunning from inside and out and ensure that the interior is flooded with sunlight for a bright atmosphere.
It is the fastest tiled roofing system to fit, allowing our homeowners to extend their homes quicker than any similar tiled roof system. Our experienced installers can fit these systems with minimal disturbances.
Besides being lightweight and sturdy, Ultraroof is the only tiled roof with a full system fire certificate for your safety and peace of mind.
Even with full length glazing panels, Ultraroof conservatory roofs can achieve U-values as low as 0.17 W/(m2K). With no cold bridging and a fully insulated 380mm structural beam, it is easily the warmest tiled replacement roof for your conservatory.
Feel confident in your investment as Ultraroof has a ten year guarantee and is a Building Regulation compliant system.
The framework is engineered to postcode, ensuring all critical load points in the roof are built to withstand extreme wind and snow loads for your specific location by combining the best of timber and steel construction technology.
Our tiled roofing system beams are strong enough to incorporate larger span of bifold doors without needing additional supporting mechanisms.
Download our brochure
Ultraroof Prices in Sherborne
Transform your conservatory with our stunning range of tiled roof designs. Get in touch with our experienced team members by calling us directly on 01935 816168 or via our contact form.
Alternatively, you can use our free online quoting engine and receive a bespoke price tailored to your property style and requirements. Start your dream conservatory project with Bill Butters!
Start Your Quote