---
What is the Best Secure Front Door?
Tuesday, 2 May 2023
The front door is an essential part of your property. Greeting you every time you come home and giving a subtle nod to every visitor or admirer, your front door can truly make or break your home. It is also very important that your front door is secure- since it's the most obvious gateway to accessing your property. In the modern market, knowing what home improvement options are best for your home is increasingly difficult. After all, with so many choices available, it is easy to get lost!

Here at Bill Butters, we are proud to partner with leading brands to provide a range of bespoke, stylish and efficient front doors for any property. However, which front door is perfect for your home? Are there any areas where particular doors perform best? In this handy article, we'll go over everything you should know about our range of front and back doors.
Common Types of Front Doors

A front door is the main entrance to a building. It is the entrance that visitors and homeowners are likely to use when entering your home. Typically, the front door will have a robust lock to ensure the safety of your interior spaces. Depending on the style, these doors can come in various shapes and sizes, as well as a range of colours and designs.

Front doors can be made from various materials such as wood, aluminium and a mix of composite materials. Wooden doors tend to give off a classic and traditional look, while aluminium and composite doors are perfect for a more contemporary finish. Some front doors may also come insulated for added energy efficiency.

Here at Bill Butters, we offer some of the most popular types of entrance doors- composite doors and aluminium doors. Let's examine both of these options in more detail below.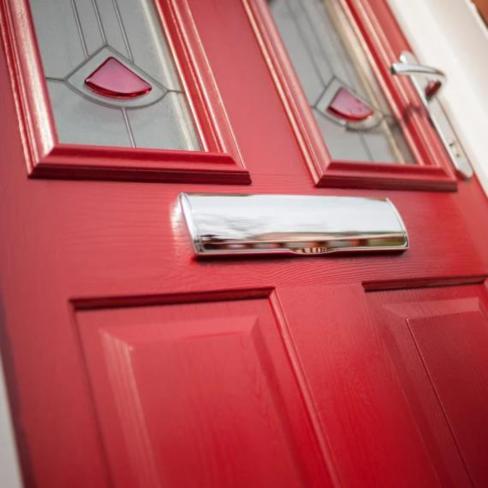 What is a Composite Door?

A composite front door is a type of strong and secure door that consists of two elements. The first element is a wooden frame which is made up of several components, such as a sill, jambs, hinges, and the door panel itself. This wooden frame is then covered with a protective shell made from materials like fibreglass, vinyl, or steel.

The frame itself is responsible for the stability and security of your door. It's made of high quality wood that will not warp or crack over time, and its durability ensures that it will last for many years to come. The frame also provides insulation and prevents heat from escaping out of your home.

Composite front doors are favoured in the modern market for a number of reasons. They're especially energy efficient, and don't give up style points in order to achieve this efficiency- being available in a wide range of colours with a variety of accessories.

Overall, a composite front door offers an ideal combination of insulation, security, and durability in a single package. It's an excellent choice if you're looking to improve your home in a variety of areas without breaking the bank.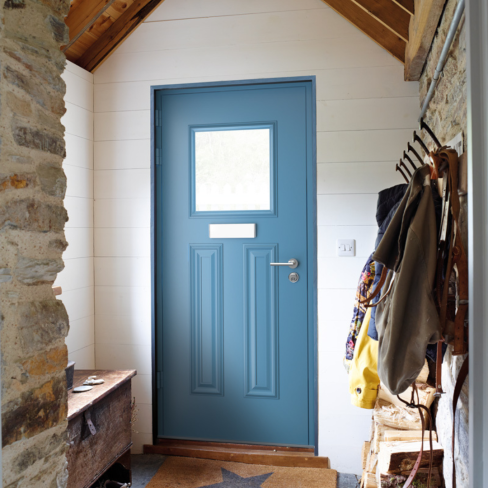 What is an Aluminium Front Door?

Aluminium doors have become popular in recent years due to their striking aesthetic appeal and excellent durability. An aluminium front door is essentially a type of door made from aluminium. This material is lightweight yet extremely sturdy, making it the perfect choice for any home. Aluminium doors can be recycled at the end of their lifespan, making them a great choice for the environment too!

Aluminium front doors come in different shapes and sizes. Compared to traditional wood and steel doors, aluminium doors are more resistant to harsh weather conditions. They do not rust, warp, or rot and offer better security against potential break-ins. They also require very little maintenance, as all they will need is an occasional cleaning with a soft cloth and soapy water.

Aluminium doors come in an array of colours and finishes. with each offering, a unique look and feel. For example, you can opt for a metallic finish for a modern, sleek appearance or go for a powder-coated finish for a more traditional look. You can also choose from various styles such as panel doors, french doors, etched glass designs and sliding patio doors to create the effect you're looking for.
Choosing the right front door

Composite doors are made from a combination of materials such as wood, metals, and plastics. This makes them incredibly strong and difficult to break. They also have built-in locks that can help prevent burglaries. This makes composite doors a perfect choice if you're looking to improve the security of your home.

In contrast, aluminium doors are made from lightweight but durable aluminium. They are corrosion-resistant and usually come with tempered glass for extra security. Aluminium doors also commonly come with multiple locking points for added security, ensuring they provide an entrance that resists common break-in methods.

When it comes to security, both composite and aluminium doors are excellent choices. Both offer a range of features that can help protect your home from intruders. However, composite doors are generally the better option when it comes to security. They are more difficult to break through, have built-in locks, and come in a range of finishes. However, if you're looking for sleek, modern aesthetics alongside your new sturdy door, an aluminium product might be your best bet. The choice is yours!
Looking for a Secure Front Door?

Look no further than our bespoke range of composite and aluminium entrance doors. Here at Bill Butters, we provide a variety of secure front doors that are perfect for any property. Whether you've made up your mind already or aren't sure which type of door would best fit your property, our friendly team is here to help.

Make a start today with our online quoting engine, or contact a member of our team through our online contact form. We look forward to working with you!