---
How to upgrade your home with a composite door?
Wednesday, 11 October 2023
A composite door can completely transform the way a home looks and performs. Many people overlook the importance of a front door in terms of kerb appeal and home performance. A carefully chosen front door can hugely enhance the thermal efficiency, security and weatherproofing of any property in your local area.
If your home is underperforming, replacing the door could have a huge impact. A replacement composite door can improve a property which is too cold, suffers from draughts and isn't looking its best.
There are many different types of doors available today but not all are built to the same standard as our range of composite doors. This is because our composite doors are crafted using modern materials and cutting edge techniques. Poorly made doors can leave your home exposed to threats and damage. Upgrade your property with our range of composite doors.
What Are Composite Doors?
Composite doors are a popular front door installation because they are renowned for their exceptional strength and robustness. They are made using a combination of premium materials which are resistant to bowing and warping.
Composite doors feature a solid timber core, with other weatherproof materials such as uPVC, laminate and GRP surrounding this. This blend of materials can help create a more durable and dense installation. If you're replacing an old front door, a new composite door can deliver a superior level of insulation and draught proofing, helping improve the thermal performance of a property.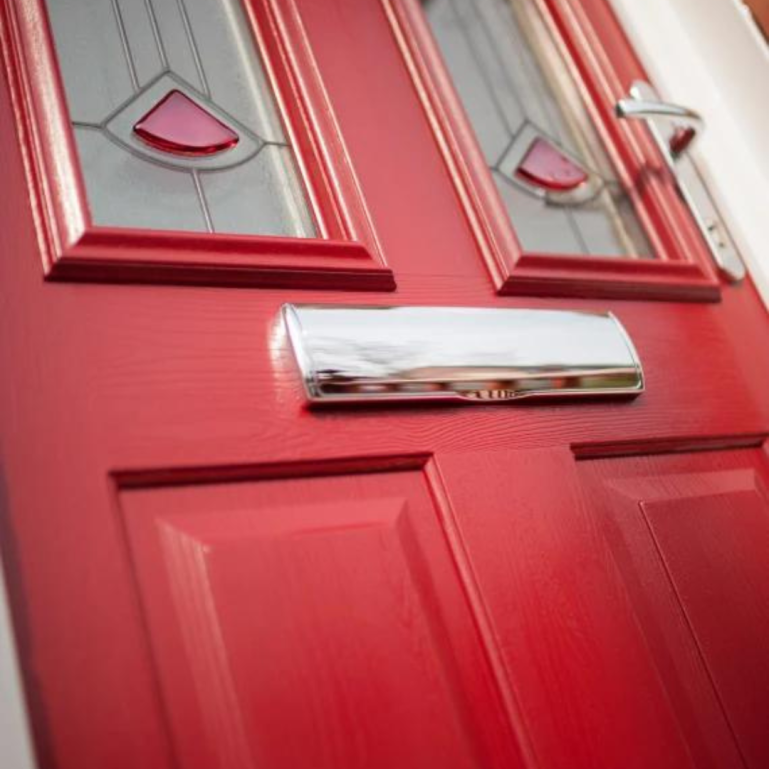 Benefits Of Composite Doors
Composite doors are a fantastic way to upgrade a home thanks to their range of functionality and practicality benefits. They are a hard wearing and low maintenance upgrade for any size, style and era of home.
Improve Kerb Appeal
We can adapt our composite doors to complement modern and traditional properties alike. These doors can be seamlessly customised to suit a range of architectural styles, adapting to homeowners' preferences and lifestyle requirements.
We offer a range of colours and glass options to choose from. Create the right first impression for your home when you upgrade to composite doors. Enjoy a door which seamlessly blends into your existing architecture, or help your property stand out for all the right reasons.
If you have a traditional property or a home in a conservation area and want to maintain the heritage charm, our composite doors can help. Replace underperforming timber profiles with composite doors which can mimic the look of wooden joinery with none of the maintenance issues.
Whatever colour you choose for your new installation, our composite doors are guaranteed UV stability. Unlike other doors on the market, the frame and the door will match each other for the perfect finish.
Our composite doors need minimal time, energy and money to stay looking as good as new. These door designs feature a hard wearing, weatherproof outer skin which will protect the profile. The high quality materials used will not peel, flake or rot.
Strength and Durability
One of the key benefits to upgrading to a composite door is how secure and robust they are. Composite doors are renowned for their sturdiness, thanks to their robust timber core. Once fitted into a home, they can deter unwelcome intruders and adverse weather conditions.
For further peace of mind, our composite doors are fitted with state of the art locking systems, toughened glass options and high security cylinders. Upgrade the safety of your home with our range of composite door installations.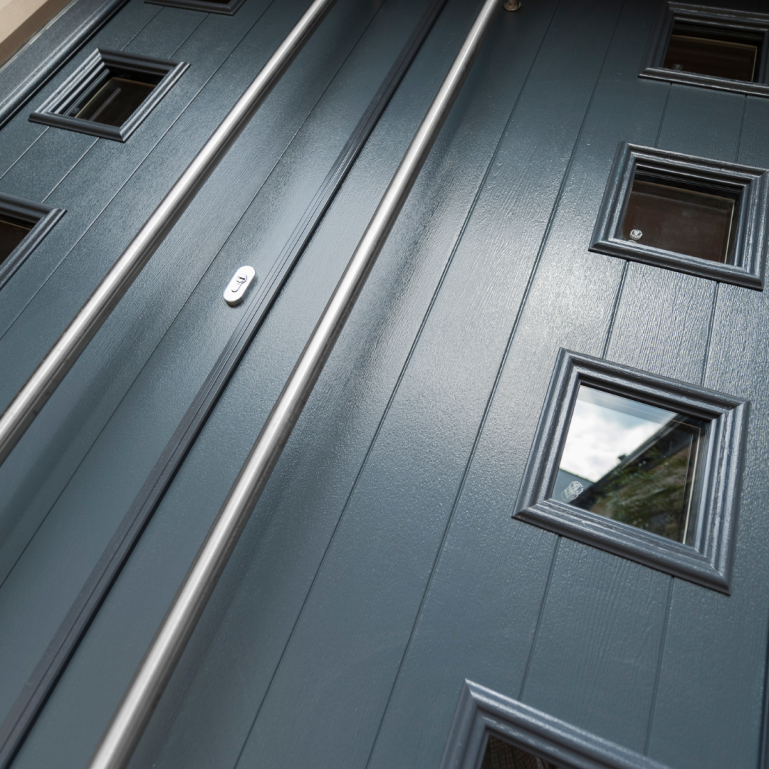 Enhanced Thermal Efficiency
The thermal efficiency of Solidor composite doors exceeds the Building Regulations. An old and out of date door can compromise the comfort of your home and could lead to higher energy bills. Composite doors have also been proven to be around 10xs more energy efficient than standard doors, thanks to their insulated foam core.
Alongside helping you protect your home from cold and draughts, you can help maintain a peaceful space. These thick front doors will help block external noises, ideal for homes in busy areas, near a busy road or have noisy neighbours.
Many homeowners are not aware that heat can leak through an underperforming front door and raise your energy costs. Investing in a composite door can lower your reliance on your central heating, leading to minimised energy bills and a reduced carbon footprint.
Composite Door Prices
Whilst composite doors seem like a more expensive alternative to uPVC doors, they offer a range of benefits that supersede other materials. Use our online quoting engine to get a price tailored to your home improvement project.
For more information on our prices, please get in touch with our team today. We will be happy to offer a price over the phone or via our online contact form. Our team is also on hand to answer your questions and offer impartial advice.